Pfeiffer-Burleigh
Co-Named for
L
egendary
Composer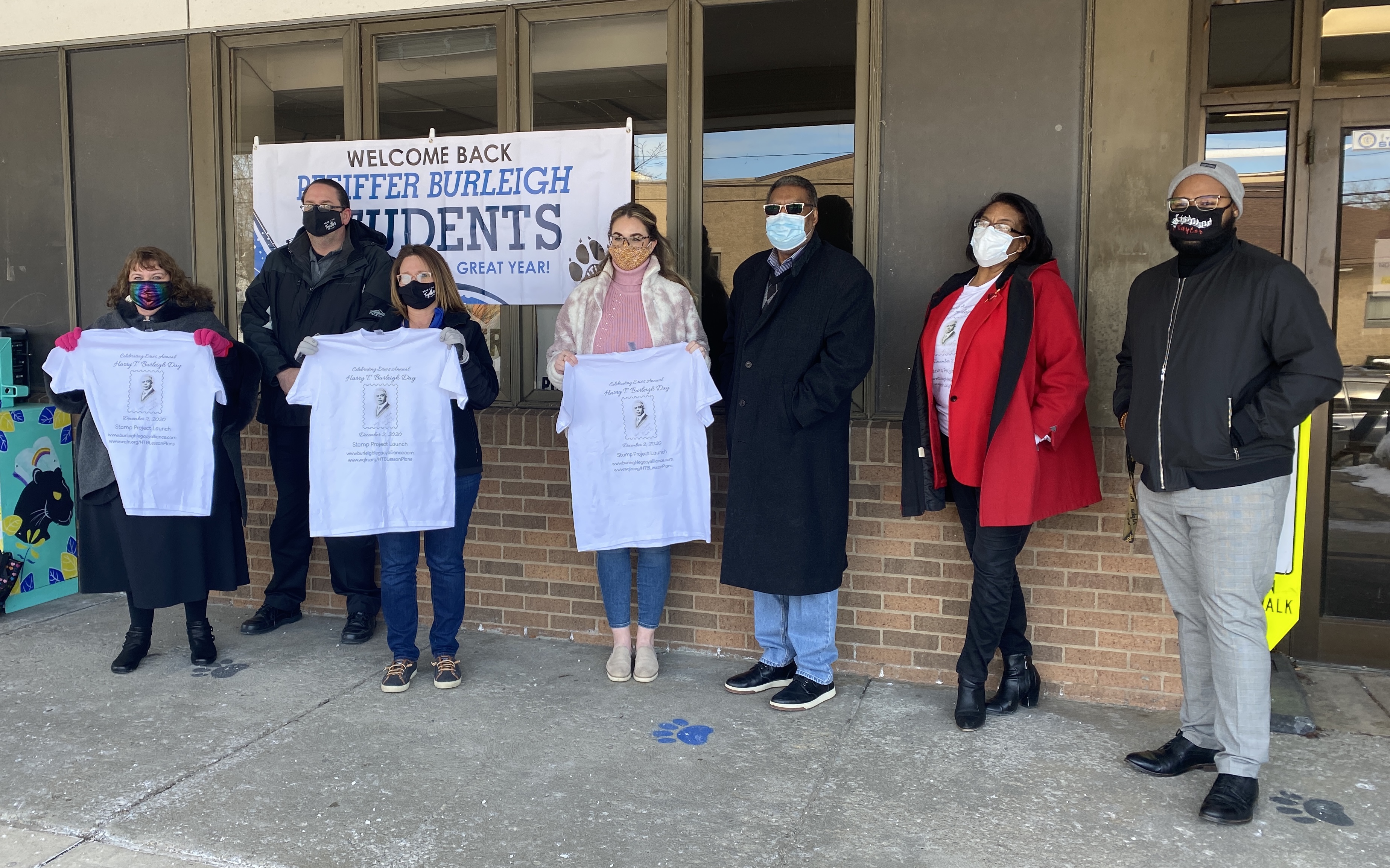 Above: Members of the Pfeiffer-Burleigh, a United Way community school, leadership team with members of the Burleigh Legacy Alliance on February 12 during the presentation of 5th grade class commemorative Harry T. Burleigh t-shirts distributed to each fifth grader.
On May 4, 1980, Pfeiffer-Burleigh Elementary School (one of United Way's eight elementary schools) was dedicated on May 4, 1980 and co-named after famed composer Mr. Harry T. Burleigh. Burleigh, a singer, composer, son of a school janitress, and grandson of an ex-slave turned lamp lighter, was born in Erie, Pennsylvania, on December 2, 1866. The early years of his life are fragmented but it is clear that his grandfather and mother were keys to his development. Harry's grandfather, Hamilton Waters, was a slave in Sommerset County, Maryland. Waters eventually settled in Erie where he found employment as a lamp-lighter, town crier, and then presser of clothes. At an early age, Harry accompanied Hamilton on his lamp-lighting rounds. It was during this time that his grandfather taught Harry the plantation melodies of his own young manhood.

After Harry's father died, his mother found work as a janitress at the school she wanted to teach at but was unable to. While Harry was helping his mother with her cleaning duties, they would sing the songs his grandfather had taught him. His mother later found work at the home of Mrs. Elizabeth Russell, a wealthy music lover who frequently invited prominent artists from the concert stage to her home. Harry would stand outside her home during the dead of winter and listen to the celebrated guests perform. When Mrs. Russell heard of this, she hired Harry to work in her home. This allowed Harry to be exposed to some of the greatest singers of the late 1800's.

Harry discovered that he had a voice, and between school and part-time work he would find time to sing at some of the local churches. At the age of 26 Harry was awarded a tuition free four-year scholarship offered by the national Conservatory of Music in New York. It was during his time studying there that Harry began singing in the Choir of St. Phillips Colored Episcopal Church, one of the city's wealthiest and most prestigious institutions. Harry sang there for 52 years.
It was at St. George's that Burleigh began to arrange for choral and solo voice the song that he had first heard his grandfather sing. This, although not an accurate picture of Harry's total output, has won Harry a lasting place in the history of American music. "Deep River" and "Swing Low Sweet Chariot" are two of Harry Burleigh's more famous compositional efforts.
During his career, Burleigh wrote and arrange over 90 songs, both sacred and secular, and when his funeral was held at St. George's, his friends like W.C. Handy and the full choirs sang "Deep River", "Swing Low Sweet Chariot", and "I Know de Lord Has Laid His Hands on Me". Harry Thacker Burleigh, singer, composer, arranger, accompanist, scholar, and grandson of ex-slave was one of the outstanding song writers of the early twentieth century. He finally gained some of the recognition he deserved in his home town of Erie, PA. when, in May 1980, an elementary school, Pfeiffer-Burleigh, was co-named in his honor.
C
ommunity Schools Celebrate
Black History Month
Students and staff at United Way's Community Schools are celebrating Black History Month in a number of creative ways that incorporate the visual and performing arts, literature, history, and current events. Here are a few highlights of Black History Month activities:
The East Middle School Singing Club put together songs by black artists to share with the school during the month of February. They have Tuesday and Thursday virtual activities related to Black History, and Friday Kahoot games have been themed for Black History throughout February.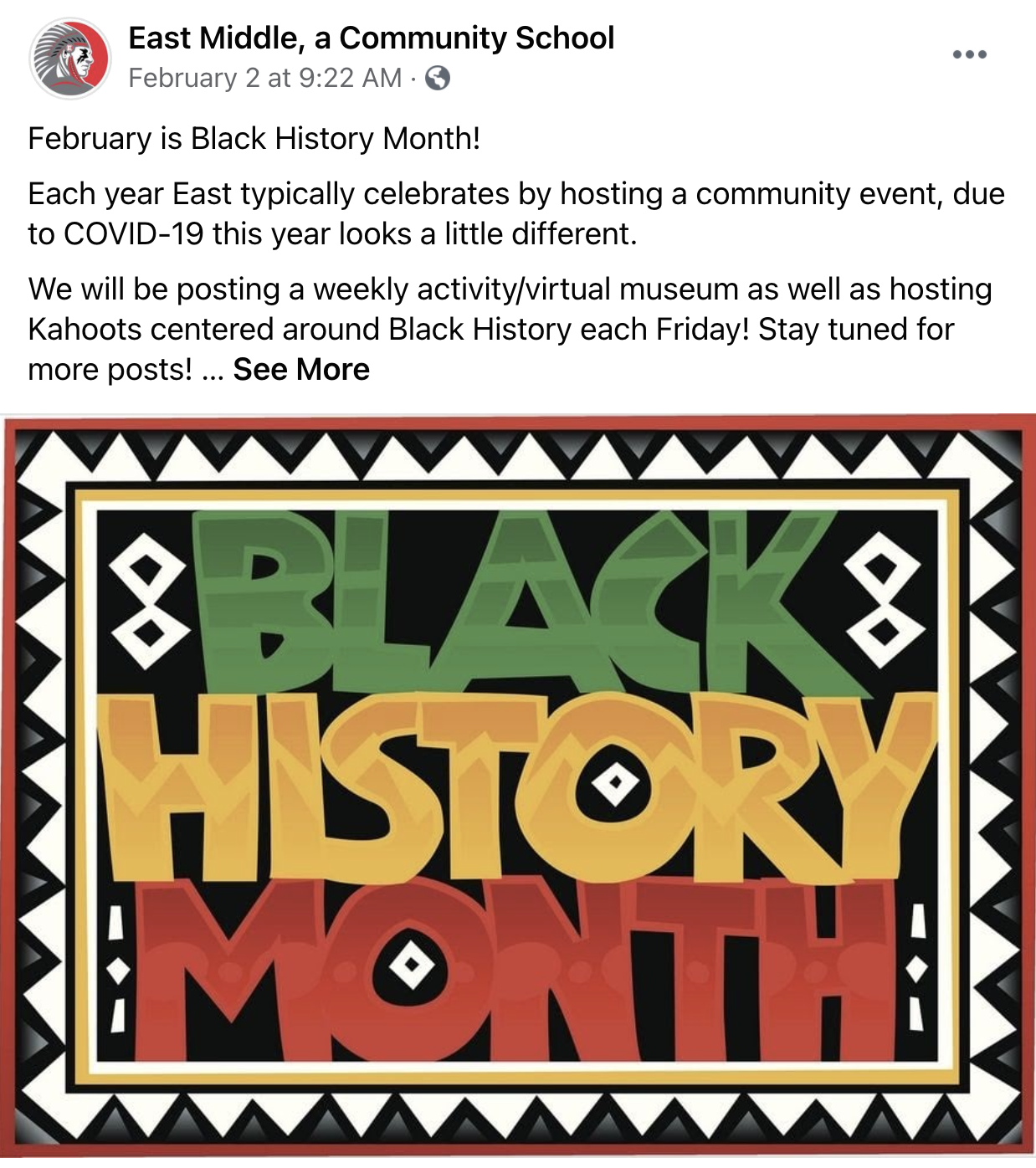 At Pfeiffer-Burleigh Elementary, daily morning announcements are centered around sharing brief biographical information and facts on both historical and current black individuals who have shaped history or our impacting communities today.
A weekly random drawing for students in Pre-K to 5th grade, provides winners with an opportunity to select a book that exhibits diverse culture, content, authors and characters. Students must be present to win.
Diehl's Behavior Intervention Specialist has been sharing self-recorded videos on Black History topics on social media throughout the month.
Iroquois Community School Director, Kerrie Grande worked with the National Honor's Society at the Iroquois High School to create video snippets of Black History and Black Americans to share out with elementary students. Plans include continuing this through March for Women's History Month.
Edison Elementary has ongoing, year-round Race, Equity, and Diversity Conversations with school staff based on podcasts, articles, books and other sources devoted to these topics.
United Way's Imagination Library for Erie County highlights diverse book titles
Each year, the Dollywood Foundation's Blue Ribbon Book Selection Committee, a specially selected panel of early childhood literacy experts, is responsible for reviewing hundreds of potential titles for inclusion in the Imagination Library program worldwide.
Recent studies suggest participation in the Imagination Library is positively and significantly associated with higher measures of early language and math development. The Blue Ribbon Book Selection Committee takes great care in choosing books that meet the different needs of children as they progress from birth to age five.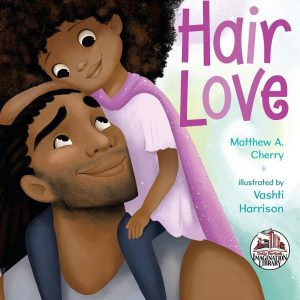 To further the engagement and information sharing with Imagination Library families, United Way maintains the Imagination Library for Erie County Facebook page and now may be a GREAT time to check it out if you haven't already! Beginning this month and throughout the Spring, United Way will be using this platform to highlight some of the many Imagination Library book titles that celebrate diversity.
Titles include: