State-Level Data
& United Way's Guide to 211 in NW PA
Pennsylvania has a state-wide network of 211 call centers, which allows United Ways to compare local data to other communities, as well as to the entire state. We know that Housing was a top request in Erie County, but that is reflective of the needs seen across the state. We can also see that where there is a need for Housing, there is also typically a need for help with Utilities. Below are charts detailing requests to 211 in Erie vs. the entire state for the period of July to December 2020.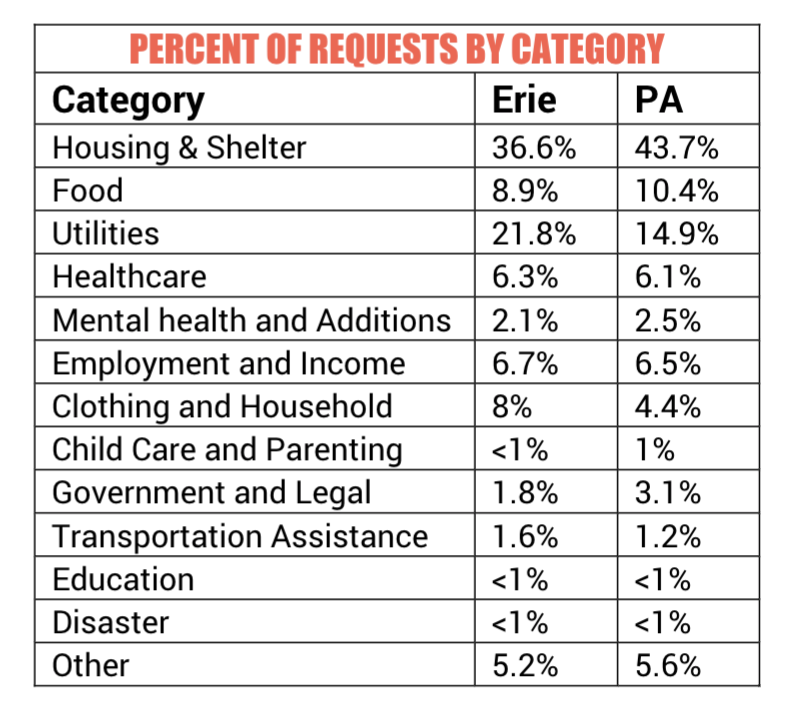 In conjunction with 211 Day, United Way of Erie County has published a white paper entitled "A Guide to 211 in Northwest Pennsylvania" where you can find the state-level data below as well as comprehensive information about the social service helpline in our community. Download the Guide
Ride United
Aims to Help
Community School Families
A grant from United Way Worldwide and Lyft ride sharing service has allowed for community school directors to help families who may need transportation for medical appointments, food, pre-employment interviews as well as services that directly impact students. United Way's 211 Helpline serves as the call center which coordinates requests for Lyft rides through the community school directors.
Meghan Easter, community school director at Pfeiffer-Burleigh Elementary, shared a story of a student who needed to complete an evaluation prior to the start of the second semester and was having difficulty finding transportation.
"Evaluations had been conducted at the school but because of the pandemic and school closures, community spaces were opened to assist with completing these evaluations," explained Easter. "Getting to the community spaces created barriers for students and parents because of the increased distance that can be as great as 4 miles to a center instead of a mile to the school. The Ride United transportation grant helps to break down barriers to get these services accomplished."
Currently, Ride United is available to the eight community schools in the City of Erie.
211 :30 PSA
211 Success Story
Many families depend on their child's school to provide at least one meal a day. When the pandemic hit and schools were forced to shut down all in-person activities last year, families were left without food security. An Erie mom in need of food assistance dialed 211 to find places providing pick up lunches for her children. She was connected to multiple food pantries in the area. In a follow up, a 211 resource navigator provided a referral to her children's school district food distribution contact. With the help of 211, this local mom was able to find the food security she needed at the time she needed it.