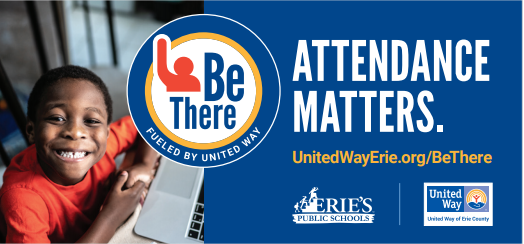 At United Way, we know the key to breaking the cycle of poverty is education. But, if students aren't in the classroom, virtually, or otherwise, they cannot succeed.
That's why United Way will be launching the Be There awareness campaign in the coming days. As part of our work to prepare children to succeed in school and life, our Raising Readers attendance initiative, Be There, mobilizes trusted, caring adults to promote excellent school attendance among local children in Erie's Public Schools. Unlike traditional efforts to reduce truancy and chronic absenteeism, Be There is a positive campaign focused on encouragement and positive reinforcement.
Information about Raising Readers:
Raising Readers is United Way's local Campaign for Grade-Level Reading initiative. We are working with stakeholders and community members to ensure all students in Erie County are reading proficiently on grade-level by 3rd grade. We are working to achieve this goal through the lens of School Readiness, School Attendance, and Summer Learning. As you may have guessed, Be There falls under the School Attendance bucket of Raising Readers.
The School Attendance subcommittee comprises stakeholders from local school districts, social service organizations, community and business leaders. We are working on discovering the root causes of chronic absenteeism in our community. While absenteeism looks very different now than it did last school year, we are recording trends that were apparent pre- and post- COVID.
This work being made possible by The Erie Community Foundation:
Supporting the work the subcommittee is doing, United Way was the recipient of an Erie Community Foundation Shaping Tomorrow grant. This grant is being used to fund the Be There Attendance Awareness campaign at five community schools in Erie's Public Schools. The grant funds not only support our Be There educational awareness campaign but include incentives for students attending school every day, Safe Walking Routes to School signs and the establishment of Walking School Buses. While the grant funds support students attending the five community schools, the messaging of our Be There educational awareness campaign will support students across all of Erie County.
Check out the PSA!
To get a sample of the messaging and look of this effort you can view the :15 PSA here: https://youtu.be/j36J4L1WSKw
We hope this message emphasizes the importance of attendance to students and their families.