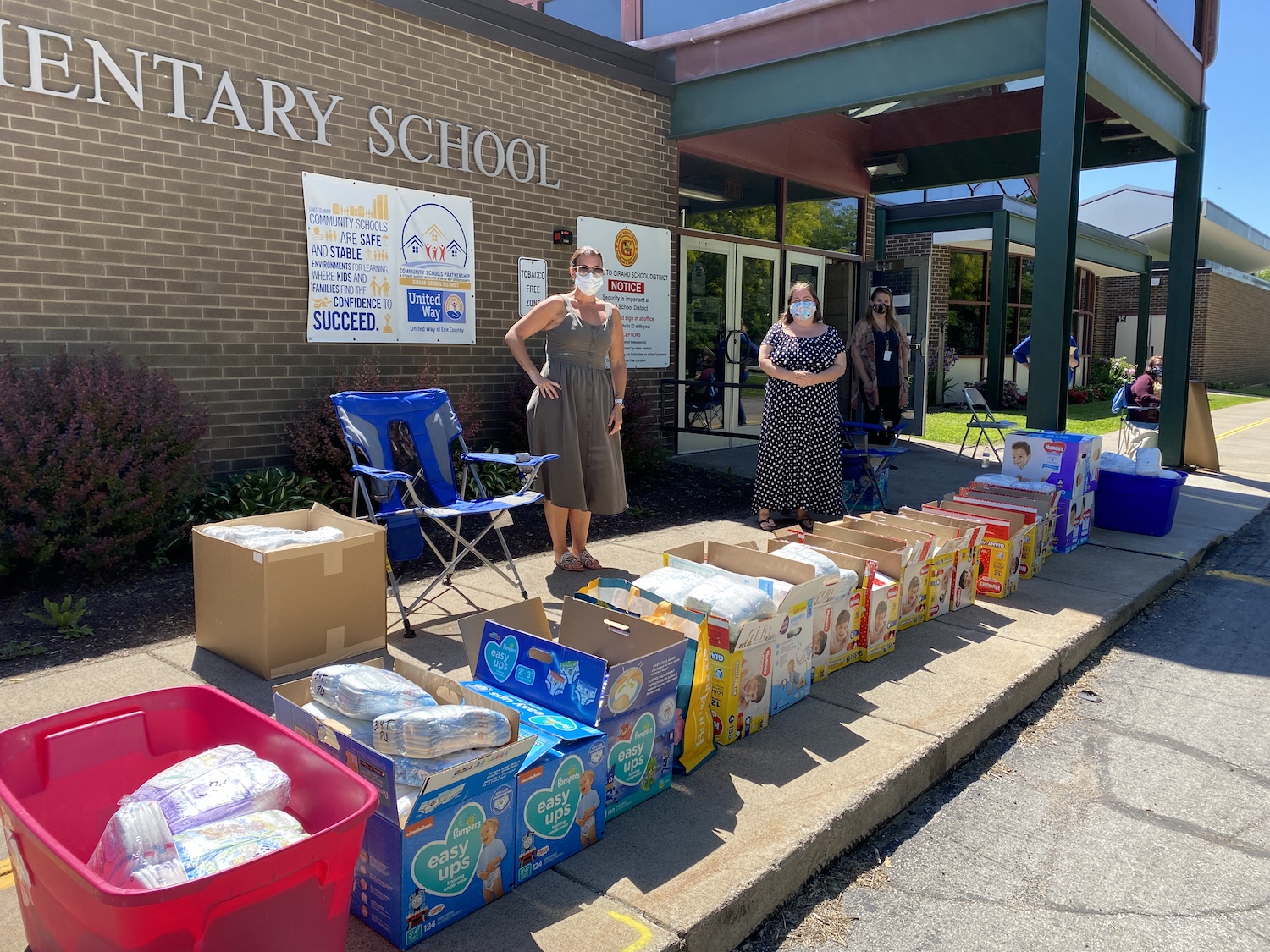 The Erie Family Center's Diaper Depot has seen a dramatic increase in need starting with the first distribution earlier this year. Families in Erie County are experiencing shortage of diapers due to COVID-19 job loss, changes in public transportation and lack of supply in the retail stores.
That's why United Way is announcing funding in the amount of $10,000 to support the Erie Family Center's Diaper Depot. The Diaper Depot, launched in January of this year, is the only one of its kind in Northwestern Pennsylvania. As the name implies, the Diaper
Depot provides families in need with diapers. The program has also expanded to be countywide and include distribution of other related items such as formula and baby wipes.
The depot aims to fill an unmet need for disposable diapers in the Erie community — a need so great, organizers said, most events distributed all diapers on hand due to the high need.
Kristen Costa, Erie Family Center Director said, "United Way's support will allow the Diaper Depot to operate through the month of July and widen the reach in the Erie community. We have provided diapers to families during the COVID-19 pandemic twice as often due to the increased need. Working families who have found themselves without income and not receiving benefits anywhere else are able to use the money that would normally be spent on diapers to get groceries for their family, gas for their cars or pay a bill they would otherwise not be able to. Erie Family Center and the families it supports are grateful for the support of United Way during this time."
The emergency grant funding is expected to provide 60,000 diapers to an estimated 1,500 children in Erie County.
"Providing this funding would help the center address the heightened need as a result of COVID-19 and will allow Erie Family Center time to explore additional funding options," said Bill Jackson, United Way of Erie County president.
Additionally, the Erie Family Center is a valued partner in United Way's community schools work, serving as Lead Partner at Perry Elementary in Erie's Public Schools.
To date, all of United Way's ten community schools have leveraged the Diaper Depot to support families. Erie Family Center has worked with United Way and directors to arrange pre-orders for diapers so they could be delivered to families unable to secure transportation to the center.