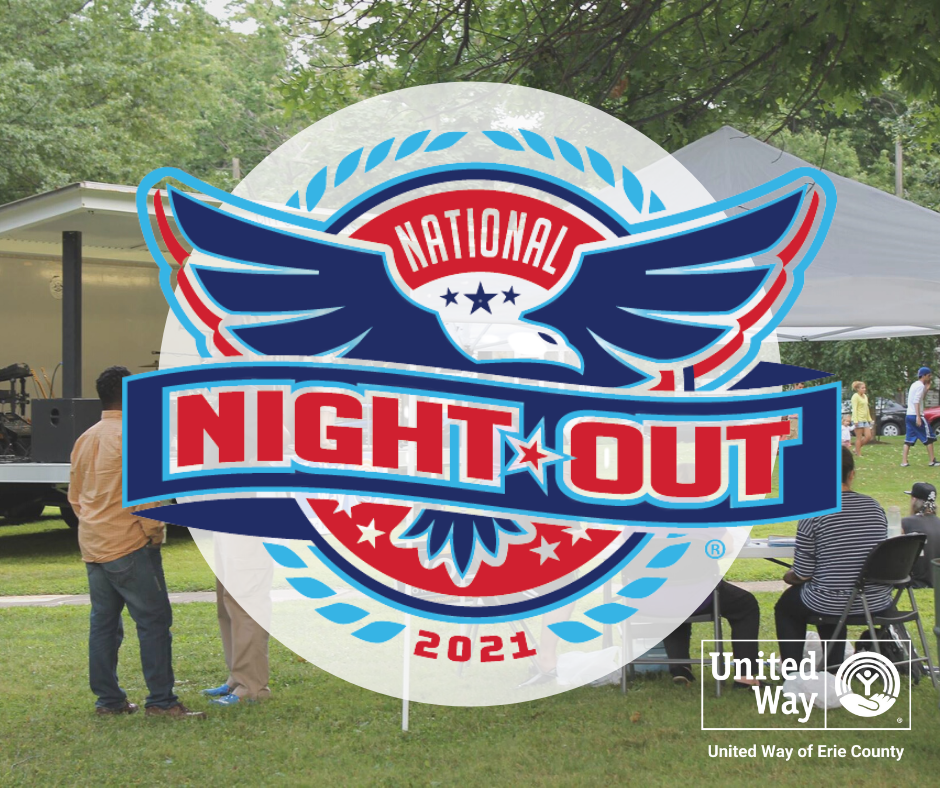 United Way of Erie County has been a proud sponsor of local National Night Out (NNO) events since 2004. In the past, NNO events have taken many forms including but not limited to block parties, cookouts, parades, visits from emergency personnel, rallies and marches, exhibits, youth events, safety demonstrations, and seminars. National Night Out also aligns with the prevention portion of the three-pronged Unified Erie Violence Reduction Initiative. Learn more about the Community Action Plan here.

Last year, in-lieu of in-person NNO events, United Way of Erie County opted to award Neighborhood Mini-Grants to foster safety and health efforts in the community in the form of projects or limited COVID-safe events.
As the vaccine rollout continues and COVID-19 cases in the community decrease, it was announced that United Way will once again provide support for National Night Out events that follow local Department of Health guidelines. National Night Out 2021 is on Tuesday, August 3, 2021.
United Way is pleased to announce the funding of 17 National Night Out events and 2 related projects totaling $13,700 in mini-grants.
Organizer(s)
Event Address
Event Time
Academy Neighborhood Association
Baker Field at East 32nd and Holland St.
6PM-7:30PM
Bayfront East Side Taskforce
Wallace Park at Wallace St. & E Front St.
6PM-8PM
Belle Valley Fire Department, Inc.
1514 Norcross Road
Erie, PA
16510
6PM-9PM
Diehl Elementary School & Mercyhurst University
Diehl Elementary School
2327 Fairmount Pkwy
Erie, PA 16510
6PM-8PM
East Avenue/Hess Avenue Neighborhood Watch
Perseus House Collaborative Learning Center
648 Hess Avenue (Back parking lot area between Lynn Street & Brandes Street adjacent to St. Casimir Church)
5:30PM-9PM
East Middle School
East Middle School
1001 Atkins St.
Erie, PA 16503
2PM-6PM
Edison Elementary School and Boys & Girls Club of Erie
Edison Elementary School
1921 E Lake Rd
Erie, PA 16511
4PM-7PM
Elk Valley Elementary School, Elk Creek Recreation & Leisure Board, Rice Avenue Community Public Library
Elk Valley Elementary School
2556 Maple Avenue
Lake City, PA 16423
6PM-7:30PM
Erie Free Store
Elmwood Avenue Presbyterian Church/Erie Free Store
2816 Elmwood Avenue
Erie, PA 16508
4:30PM-7PM
Glenwood United Methodist Church
Glenwood United Methodist Church
2931 Myrtle Street
Erie, PA 16508
6PM-8PM
Greene Township
9333 Tate Road
Erie, PA 16509
6PM-8PM
Housing Authority City of Erie
Erie Heights Neighborhood and Curry Schell Apartments
4200 Block Crestmont Avenue
5PM-8PM
Iroquois Elementary School and Lawrence Park Township
Iroquois Elementary School Parking Lot
4231 Morse Street
Erie, PA 16511
6PM-8:30PM
McKinley Elementary School
McKinley Elementary School
933 East 22nd Street
Erie, PA 16503
3PM-6PM
Our West Bayfront
Bay and Harbor Neighborhood Association, Boulevard Park Neighborhood Watch, Gateway Neighborhood Association, Erie MLK Center, Garden County Association, West Bayfront Neighborhood Watch, West Side Saints Neighborhood Watch
Gridley Park
W. 6th and Liberty Street
5PM-8PM
Perry Elementary School and Erie Family Center
Perry Elementary School
955 W. 29th Street
Erie, PA 16508
4PM-6PM
Youth Leadership Institute
1306 E. Lake Rd. Erie, PA 16507
4PM-7PM
For organizations not comfortable holding an in-person event but had continued neighborhood needs, United Way also considered awards for projects that address community resources this year. Projects that support Community Resources for Basic Needs needed to align with the following: providing resources to the community (e.g. food, health, and other basic needs distribution) and/or making the community aware of available resources (e.g. developing & distributing flyers to share local resources and outreach efforts to meet community need.
Projects receiving funding:
| | |
| --- | --- |
| Organizer(s) | Project |
| Harding Elementary School | Basic Needs Bags |
| SNOOPS Neighborhood Watch | Neighborhood Outreach Picnic Boxes |
All events and projects being funded will be required to align with the current CDC recommendations.
Planning assistance for United Way's efforts will be provided by the NRO which is a service agency created to provide resources, support and technical assistance to neighborhood groups throughout Erie County. Services provided by the NRO are available to any neighborhood group that is organized or that wishes to organize and desires to utilize the services. Those groups looking to connect with the NRO are encouraged to contact John Villa, the Neighborhood Resource Organization Outreach Coordinator (814) 572-0755.