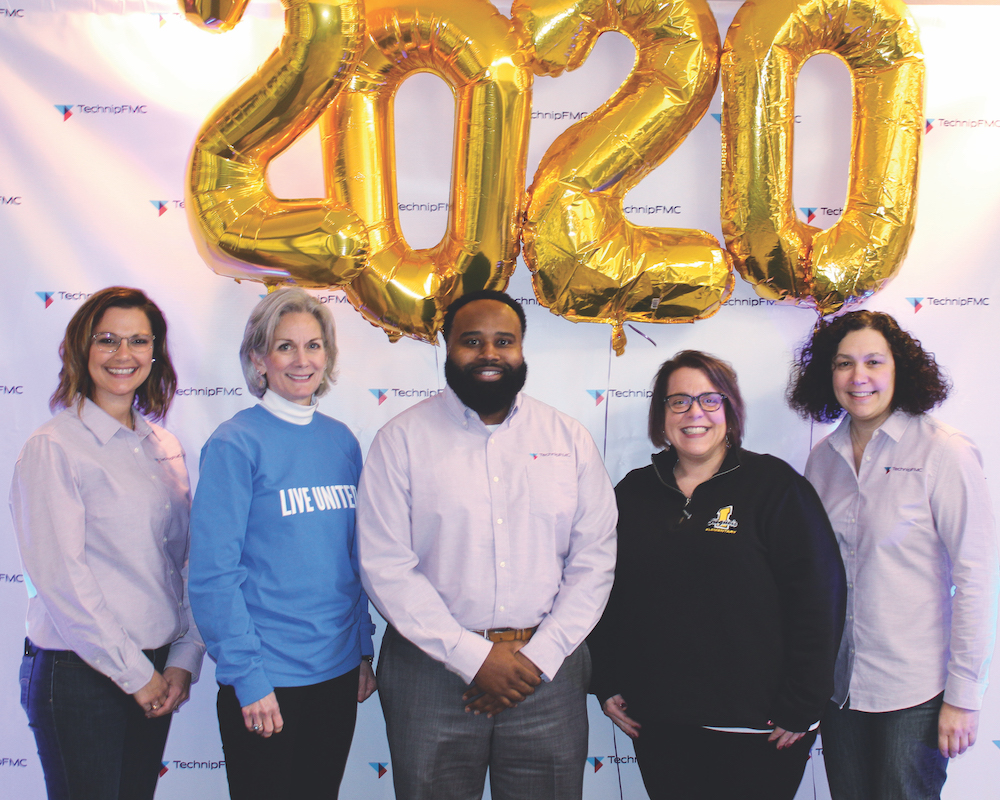 L to R: Melissa Hildebrand, Digital Marketing Manager- Surface (TechnipFMC); Laurie Root, Senior Vice President (United Way); Dewayne Sledge, Operations Manager- Erie (TechnipFMC); Kerrie Grande, Community School Director (Iroquois Elementary School); Alicia Kerchansky, People & Culture Business Partner- MS (TechnipFMC)

Officials from United Way of Erie County in partnership with the Iroquois School District announced TechnipFMC as an additional confirmed corporate partner in the community schools initiative.
Community schools are places where resources from the community are used to improve academic student success. Community schools offer programs that focus on health and social services for students and parents. Rather than sending students to services throughout the city and county, these services are brought into the school. The schools become the center of the area they serve, with access before, during and after school hours, including the summer months. As needs of students and families change, so do the supports offered at community schools.
"The community schools initiative is unique in the fact that it recognizes barriers that limit student success that are not always academic in nature. The alignment of school and community resources creates a powerful enabler allowing for removal of those barriers thru focused action," said Dewayne Sledge, TechnipFMC Operations Manager, Erie. "We cannot reach our full potential if we aren't playing our part in helping others reach theirs. TechnipFMC is excited to be an active partner with United Way of Erie County and Iroquois Elementary, and look forward to supporting our future leaders of tomorrow."
Corporate Partners are vital to the work of community schools because they provide financial support. Many corporate partners also support their school's' specific needs through volunteer engagement efforts, professional development and in-kind resources.
The additional Corporate Partners already in place at Iroquois are Reed Manufacturing and Widget Financial.
The Lead Partner at Iroquois Elementary is Susan Hirt Hagen CORE at Penn State Behrend. The Lead Partner of a United Way community school is an entity whose vision and mission matches that of the community school model and can point to specific services and strategies in their resource pool that will enhance opportunities for students and families to learn and be successful.
United Way community schools are in place countywide and include:
East Middle School
Edison Elementary School
McKinley Elementary School
Pfeiffer-Burleigh School
Strong Vincent Middle School
Diehl Elementary School
Perry Elementary School
Harding Elementary School
Elk Valley Elementary School
Why Community Schools Work:
Engaged school district leadership
School principal leading the vision and process at each site
Community School Director, employed by a community-based organization or institution of higher education, working full-time in the school with funding support from Corporate Partners
Site-based leadership team comprising parents, educators, community and business partners
Facility access before, during and beyond school hours