Through United Way's community schools initiative we're able to help vulnerable children and families at risk of falling through the cracks during this time of upheaval by providing supports and basic needs.
Be sure to follow along with all of the great work happening throughout Erie County at United Way's ten community schools by checking out the hashtag #CommunitySchoolsInAction on Facebook and Instagram!
AT DIEHL
Families at Diehl Elementary School enjoyed freshly baked Majestic Baking Company bread thanks to recent support from American Tinning & Galvanizing, one of the school's corporate partners through United Way's community school model.
Making this partnership possible was David Bertges, American Tinning & Galvanizing Financial & HR Manager who brought the idea to Karen Donnelly, Community School Director, and the Diehl Leadership Team. Families in need have been receiving food through planned Erie's Public Schools meal distribution which was enhanced with the inclusion of freshly baked bread! David also worked with additional nonprofits including Sarah Reed's Children Center to provide left over bread!
Follow Diehl Elementary School on Facebook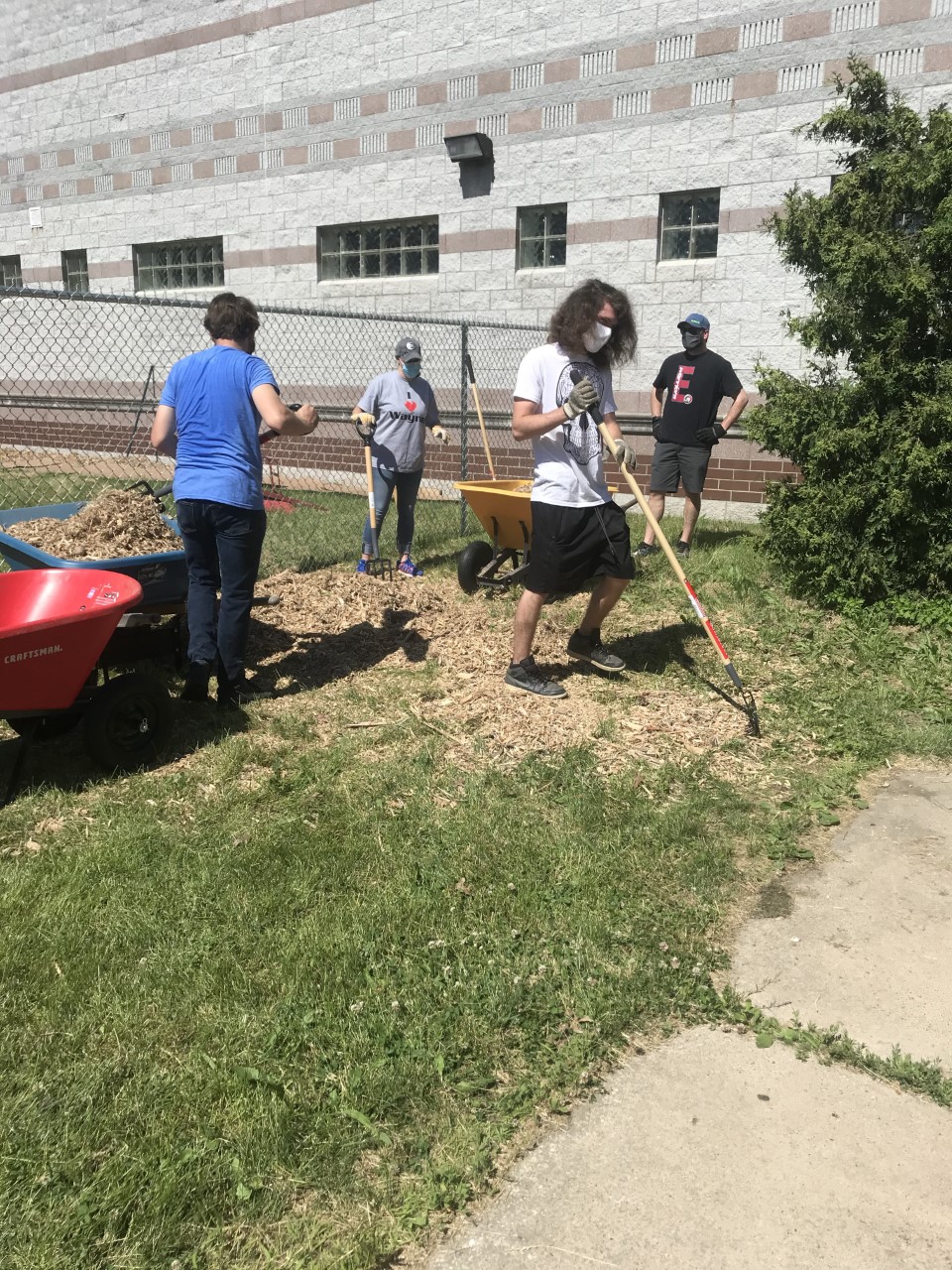 AT EAST
East Middle School now has a community garden! Thanks to the work of Doreen Petri and Stephanie Ciner who applied for an urban agriculture grant and worked with Erie's Farm to School Program to help make the East garden possible. The grant funds were used for both the installation of the garden and the urban agriculture club that will be implemented.
The Urban Agriculture Club is targeted to East's New Comer Academy and their families, with the goal of participants designing the garden and caring for it. Due to COVID, plans have been delayed a bit but the installation is now complete and partners will be working together to re-engage the Urban Ag Club over the summer!
Follow East Middle School on Facebook

AT EDISON
Pre-K and Kindergarten students at Edison Elementary School, a United Way community school, received Virtual Summer Camp Kits thanks to Edison supporter Trisha Yates who led the effort on gathering donations for the kits that have all of the items students will need to participate in virtual summer camp. Kits were used at home as students followed along through planned instruction via YouTube.
Follow Edison Elementary on Instagram
Follow Edison Elementary School on Facebook
AT ELK VALLEY
United Way, in partnership with the Girard School District are thrilled to formally announce that two corporate partners have joined the community school partnership at Elk Valley Elementary.
Bonnell's Auto Group and Matrix Tool signed on to be corporate partners earlier this year and while United Way and Girard School District intended on a public announcement, due to the COVID-19 pandemic, an in-person gathering was not possible. Both corporate partners have already stepped up in a big way donating toward food distribution efforts for families at EVES.
Corporate Partners are vital to the work of community schools because they provide financial support. Many corporate partners also support their school's' specific needs through volunteer engagement efforts, professional development and in-kind resources.
Follow Elk Valley Elementary through the Girard School District on Facebook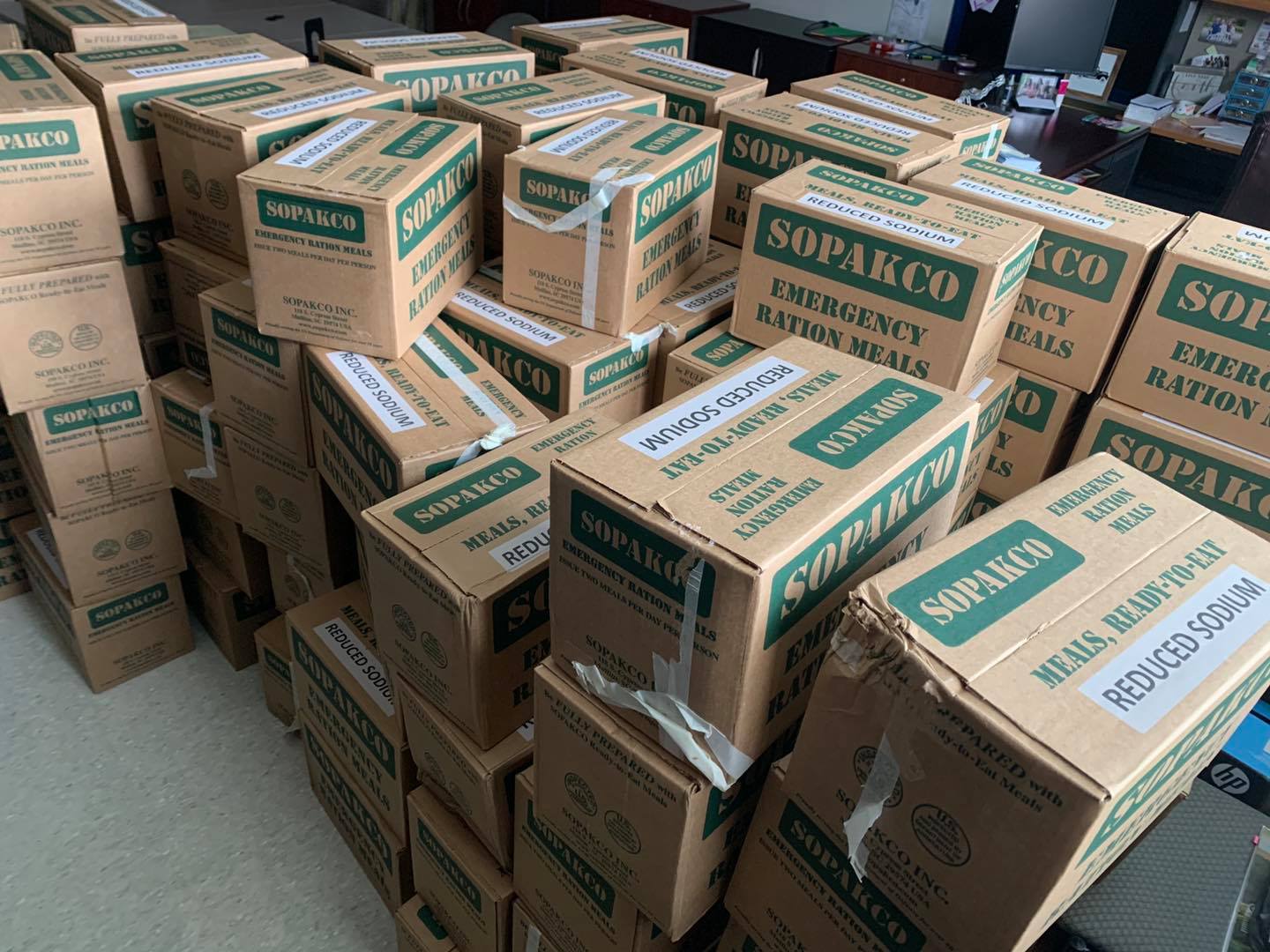 AT IROQUOIS
Iroquois Elementary School partners have been working to ensure families in need have meals available to them. Thanks to the generosity of Millcreek Community Church and Harborcreek Community Church 2,000 MRE (Meals-Ready-To-Eat) were provided to Iroquois families!
Supporters of Iroquois Elementary School are encouraged to join their Facebook group
AT HARDING
At Harding Elementary, a United Way community school, Stay at Home Kits were assembled and delivered to families thanks to a $1,000 Donors Choose grant awarded to teacher Ann Trask.
The best part was that Ann was able to work with Community School Director, Shanna Schumacher to enhance the available items in the Kits. Shanna and Ann worked to receive the bags from the school's Lead Partner, YMCA of Greater Erie and books from the Achievement Center and United Way's Imagination Library and stress balls from System of Care Erie. Shanna, Ann and other Harding staff gather to assemble and then deliver bags to more than 25 families!
Follow Harding Elementary School on Facebook
AT MCKINLEY
Annually, United Way's Young Leaders Society adopts the fifth grade class at McKinley Elementary, a United Way community school. Engagement between the class and Young Leaders includes polo and sweatshirt delivery, career exploration visits and field trips. This year looked a bit different due to the COVID-19 pandemic. But, the connections with fifth graders continued!
United Way Young Leaders purchased bags for each graduating Mariner that were picked up with their belongings. The bags included items to remember their time at McKinley. School staff also worked with Dotigan Clothing Co. on the development of custom t-shirts sponsored by YLS that were included in the bags!
Follow McKinley Elementary School on Facebook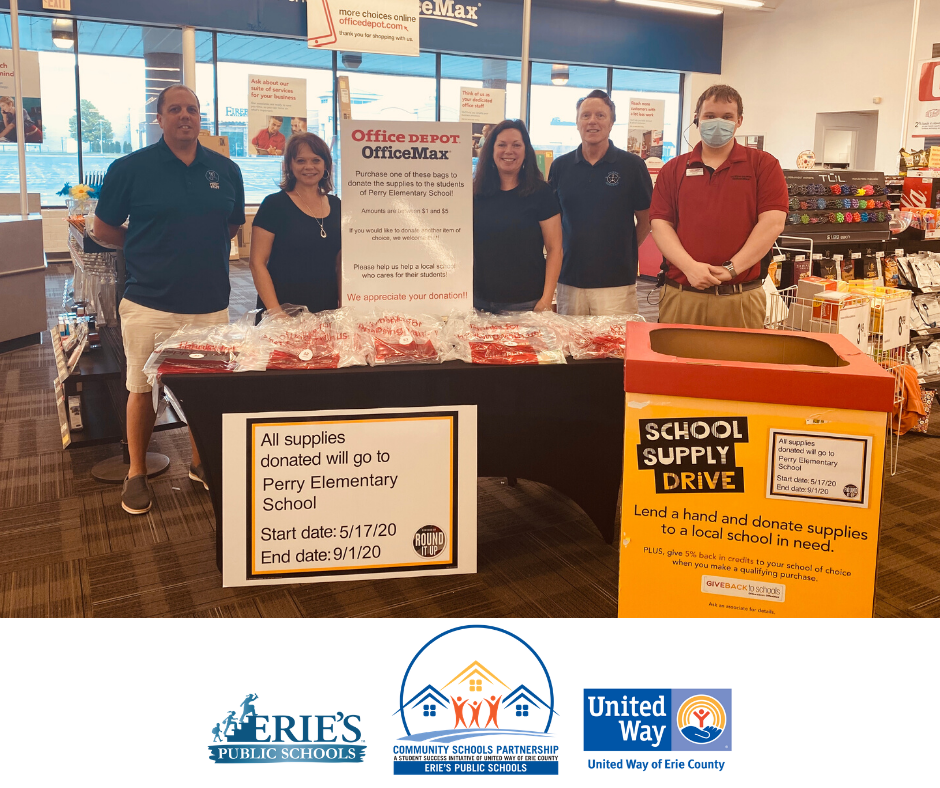 AT PERRY
Students in need of school supplies should not need to worry about having the necessary tools to do their schoolwork. That's why Perry Elementary School recently worked with Office Max to establish a School Supply Drive for students. Beginning May 17 through September 1, Office Max will be collecting school supplies for students.
Follow Perry Elementary School on Facebook
AT PFEIFFER-BURLEIGH
At Pfeiffer-Burleigh, a United Way community school, recognizing the major accomplishment of completing 100% of online assignments made all the difference in encouraging students and families facing the difficult task of learning online.
Community School Director, Meghan Easter, made stops to the homes of all students completing their schoolwork virtually and even brought along the PB Panther Mascot and other representatives from PB!
Follow Pfeiffer-Burleigh Elementary School on Facebook
AT STRONG VINCENT
Jr. Chef Club has been a student-favorite Strong Vincent Middle School after-school program offered through United Way's community schools partnership this school year. Unfortunately, the program discontinued when schools closed due to COVID-19.
After polling SVMS students about after-school programming that could be offered virtually, it was voted that the very popular Jr. Chef could continue! Community School Coordinator Kaitlyn Falk worked with Community School Director Katrina Byrd and Principal Andrea Gloystein to get the program online.
During the remainder of the school year, Kaitlyn shared a weekly recipe with the group of students, who then meet with her virtually to make the recipe all together! And, even better...Kaitlyn and Katrina even delivered ingredients to families in need!
Follow Strong Vincent Middle School on Facebook
For complete details on United Way's community schools partnership including lead partners, corporate partners and more check out our Community Schools brochure!

And, be sure to stay tuned for how you can support all of this great work by becoming a Community School Booster!