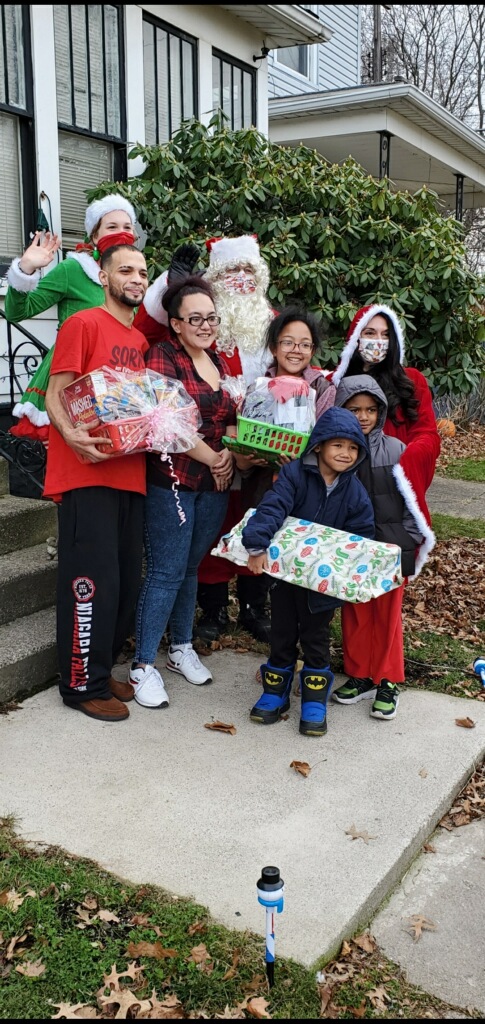 "I don't know what I'm going to do for Christmas." - Strong Vincent parent
The Strong Vincent Caring Colonels holiday generosity effort was launched so parents didn't have to feel this way. It's no surprise that SV, as a community school, answers the call for need from any and all families at their school. So, when parents who had already signed up for resources were asked if they may have a need for the holiday season and the answer was yes, Katrina Byrd, community school director, and Kaitlyn Falk, community school coordinator, stepped up.
Students identified to benefit from the Caring Colonels efforts were asked to come up with three holiday wishes of up to $40. Outreach was done to promote the effort to encourage those able to fulfill wishes to embrace a student. The response was so overwhelming that there were not enough students to fulfill the response so those Caring Colonels wishing to participate who were not connected directly to a student were able to donate wrapping paper or they were able to donate their time in helping to deliver gifts as joy dashers.
Caring Colonels also included a family engagement component where families were asked to draw a picture of themselves having fun. Pictures were included with wishes that were fulfilled by generous Strong Vincent supporters throughout the community. In total, 90 students in 34 families were served. A total of 224 presents, 7 gift cards and 2 bikes were delivered. 34 baskets were made that included toiletries, socks, gloves and other household essentials.
Support for the Caring Colonels was also provided by Gannon University, Strong Vincent's lead partner in the community school model. Gannon volunteers representing staff, students and alumni joined in! Assignments for volunteers included sorters, wrappers and joy dashers (delivery.) The delivery of the gifts was very special and included Kaitlyn Falk, community school coordinator, as the magic elf, and Dr. Walter and Dr. Mary Iwanenko as Colonel Claus and Mrs. Colonel Claus! Strong Vincent's corporate partner, Highmark Blue Cross Blue Shield also participated in the generosity!
"There were volunteers with tears in their eyes after participating in this," said Katrina Byrd, SV community school director. "It meant so much to the students, their families and to us. We are so grateful for all of the support."
Be sure to stay up to date with all of the happenings at Strong Vincent, a United Way community school on their Facebook page!