Community School Directors are the driving force behind the model aimed towards breaking barriers that students and their families face. By connecting with community partners, staff, United Way and other community members, Directors help to level the playing field so all students and families are able to be successful despite deterring circumstances.


Julia Boyd
Community School Director, Woodrow Wilson Middle
Office: (814) 874-6600
Email: TBD
718 East 28th Street, Erie, PA, 16504

Corporate Partner: TBD
Lead Partner: TBD
Julia is a proud Penn State Behrend graduate with a rich background of research in social, developmental and clinical psychology. While at Behrend, she obtained her Bachelor's Degree in Psychology, Certificate in Behavioral Health Counseling, and is currently working toward her Master's Degree in Applied Clinical Psychology. Julia's education has also included internships with the Mentor Project at the Susan Hirt-Hagen Center for Community Outreach, Research, and Evaluation (CORE) and Family Based Mental Health at the Achievement Center of LECOM Health.
Julia previously served as the #PYDONEFAMILY Coalition Coordinator within the Iroquois School District where she utilized the Search Institute's 40 Developmental Assets to prevent and reduce youth substance abuse. She is passionate about empowering the youth and families of Erie County.



Katrina Byrd
Community School Director, Strong Vincent Middle School
Office: (814) 874-6500
Email: kbyrd@eriesd.org
1330 West 8th Street, Erie, PA, 16502
Fax: (814) 874-6456
Corporate Partner: Highmark Blue Cross Blue Shield
Lead Partner: Gannon University
Katrina is a native New Yorker. She has a strong background in the Community School strategy having developed and grown a Community Learning School in Brooklyn, NY for two years, where she received the Phenomenal Woman of the Year Award. Katrina was also a Permanent Substitute Teacher with the New York City Department of Education for 8 years. Katrina is a Licensed Funeral Director in the states of New York and North Carolina. She holds a Bachelor of Science degree from St. Joseph's College, is a Distinguished Graduate Awardee and holds an Associate degree in Mortuary Science from the American Academy McAllister Institute. She is currently a graduate student at Gannon University.
Tami Krzeszewski-Conway, LSW
Community School Director, Edison Elementary School
Office: (814) 874-6470
Cell: (814) 460-6278
Email: tkrzeszewski-conway@eriesd.org
1921 E Lake Road, Erie, PA, 16511
Fax: (814) 874-6475
Corporate Partner: Wabtec Corporation
Lead Partner: Achievement Center of LECOM Health
Tami, an Erie native, returned back home to serve the community as a social worker in 2011. After graduating from Mercyhurst Prep, she attended North Carolina State University on a full athletic scholarship. During her time there, she served as the captain of the women's soccer team, was the named to the ACC All-Academic Team and earned her B.S. in social work. Tami pursued her graduate studies at the University of Pittsburgh, earning a Master's degree in social work and a certificate in gerontology. Volunteering in Cambodian orphanages is among one of her most valued experiences. Tami's previous work involved connecting families and community members with various resources offered throughout Erie County. Tami is passionate about intergenerational programming and community building and believes in utilizing the strengths of individuals and aligning them with the assets in our community. Tami has been a Community School Director since 2017 and values the beautiful experiences of partnering with the students and families of Edison.
Karen M. Donnelly
Community School Director, Diehl Elementary
Office: (814) 874-6594
Cell: (814) 240-8915
Email: kdonnelly@eriesd.org
2327 Fairmount Pkwy, Erie, PA, 16510
Fax: (814) 874-6589

Corporate Partner Coalition: Accudyn Products, Inc., American Tinning & Galvanizing, Custom Engineering Company, Lincoln Recycling, McInnes Rolled Rings, Reddog Industries, Smith's Provision Company, Inc. and Team Hardinger Transportation and Warehouse
Lead Partner: Mercyhurst University

Karen previously worked at Mercyhurst North East as an Academic Success Coach and Director of the Perkins Grant for the campus. She is a native Rhode Islander who has been in the Erie area for more than 30 years. Karen is most excited to join the team at Diehl because she is passionate about working with children and feels this role brings her career full circle. "This job is a culmination of all of the skills developed throughout my career," Karen stated.
Meghan Easter
Community School Director, Pfeiffer-Burleigh School
Office: (814) 874-6750
Cell: (814) 460-8365
Email: measter@eriesd.org
235 E. 11th Street, Erie, PA, 16503
Fax: (814) 874-6756
Corporate Partner: Erie Insurance
Lead Partner: Family Services of NWPA
Meghan, an Erie native, attended Harding Elementary School and a graduate of Fairview High School. Meghan earned a Bachelor of Arts degree in Psychology and Masters of Arts in Sociology, both at Indiana University of Pennsylvania (IUP) where she was also a student athlete (soccer). Professionally, Meghan has spent her career working with children and families in the home, school, and community settings and within a variety of capacities. Currently serving in the role of Community School Director at Pfeiffer-Burleigh, provides Meghan with the opportunity to continue to serve the Erie community. On a personal level, Meghan is married to Jason L. Easter, whom she first met in elementary school at Harding. The Easter family, resides in Erie City, and have three boys (Devin, Gavin, and Jaxson), all of which are students within Erie's Public Schools.

Scot Galloway
Community School Director, Perry Elementary
Office: (814) 874-6485
Email: sgalloway@eriesd.org
955 West 29th Street, Erie, PA, 16508

Corporate Partner: Eriez Magnetics
Lead Partner: Erie Family Center
Scot, an Erie native, graduated from Strong Vincent High School and went on to obtain an Associate and Bachelor degree in Human Resource and Management. He is a former Community School Coordinator at Edison Elementary and Blended Case Manager with the Achievement Center. Scot is also a retired Paramedic in the City of Erie and has held many leadership roles for local nonprofits. He has a passion to serve the underrepresented and undeserved community to help remove barriers for educational success. Scot is also a successful business owner that occupies most of his free time when not working with the Erie community.
Amy Grande
Community School Director, McKinley Elementary
Office: (814) 874-6870
Email: agrande@eriesd.org
933 E 22nd Street, Erie, PA, 16503
Corporate Partner: United Way's Women United for Community Schools
Lead Partner: Edinboro University
Amy, an Erie native, graduated from East High School in 2003 and went on to obtain a B.A. in Psychology and dual minors in Athletic Coaching and Sports Behavior from Gannon University. Amy pursued her Graduate studies at California University of PA, earning a M.S. in Sports Management. Amy has spent her career dedicated to working with youth, teens, and families in the Erie community, most commonly in the nonprofit sector. She has a passion for Health & Wellness and has coached High School Girls' Basketball within Erie's Public Schools and Erie Crossover.
Kerrie Grande
Community School Director, Iroquois Elementary School
Office: (814) 899-7643
Email: kgrande@iroquois.iu5.org
4231 Morse Street, Erie, PA, 16511
Corporate Partner: Reed Manufacturing Company, TechnipFMC and Widget Financial
Lead Partner: Penn State Erie, The Behrend College
Kerrie Grande, an Erie native, graduated from Erie's East High School in 1997 and went on to attend Gannon University, where she earned a Bachelor's of Science degree in Early Childhood Education, Elementary Education and Special Education in 2001. During her time as an educator and administrator for the Iroquois School District, Kerrie pursued a graduate degree in Curriculum and Instruction from Gannon University (2006) and a graduate degree in Educational Leadership with a Principal's Certificate from Edinboro University (2011). Kerrie is passionate about volunteering through her school and church, as a way to give back to those in her community.

Liz Nies
Community School Director, Lincoln Elementary
Office: (814) 874-6685
Email: TBD
831 East 31st Street, Erie, PA, 16504
Corporate Partner: TBD
Lead Partner: TBD

Liz Nies is an Erie native with a passion for community building, family engagement and advocating for social and economic justice.

She attended John Carroll University where she received a bachelor's degree in sociology, with minors in political science and peace, justice and human rights. Liz returned to Erie to obtain her masters degree in social work and recently became a licensed social worker in the state of Pennsylvania. Liz has worked part-time with the Community School Model at Edison Elementary for several years and has also served as a trauma case manager, working with families and children open with OCY in the Erie area.

Liz is excited to join the Lincoln family as their Community School Director. She is a strong believer in positive transformation that can occur when a holistic approach is used to support children's education, and she cannot wait to be part of Lincoln's mission!


Rachel Pierce
Community School Director, East Middle School
Office:(814) 874-6422
Email: rpierce@eriesd.org
1001 Atkins Street, Erie, PA, 16503
Fax: (814) 874-6707
Corporate Partner: Hamot Health Foundation
Lead Partner: UPMC Western Behavioral Health at Safe Harbor
Rachel is an Erie native, a graduate of Iroquois High School and Edinboro University, earning an Associate and Bachelor degree. Rachel is a currently in the concentration year of her Masters of Social Work at Edinboro University. Prior to working with the students and families at East Middle School, Rachel served as a Family Specialist with Erie Homes for Children and Adults. Following her time in that program, she went on to serve as the Community School Coordinator and now the Interim Community School Director at East. Additionally, Rachel serves Erie County through her work as a Crisis Clinician at Crisis Services in Erie PA.
Bailey Pituch
Community School Director, Union City Elementary
Phone Number: (814) 438-7611 ext. 3414
Email: bpituch@ucasd.org
91 Miles Street Union City, PA, 16438
Corporate Partners: United Way's Women United and Anonymous
Bailey, a native of Union City, graduated from Union City High School in 2013 and went on to earn her Bachelor's Degree at The College of Wooster. After college, Bailey worked as an event producer in New York City, Erie, and Dover. She returned to Erie in 2019 to work for United Way of Erie County as a Community Impact Coordinator and then a Community Impact Manager of Data and Evaluation. Bailey became a Community School Director in 2021 and shared, "I have known since my first few days at United Way that Union City Elementary School could and should benefit from this new way of working, where supports are brought into a school once needs are identified. As a Union City graduate and a former Union City substitute teacher, I've seen some of the barriers students, caregivers, and teachers are facing when it comes to achieving student success and family stability. I'm excited that my hometown will be able to benefit from this initiative and all the great things that come with it!"
Shanna Potter
Community School Director, Harding Elementary
Cell: (814) 440-9734
Email: spotter@eriesd.org
820 Lincoln Avenue, Erie, PA, 16505
Corporate Partner: Eriez Magnetics
Lead Partner: YMCA of Greater Erie
Shanna is an Erie native who attended Edinboro University and received bachelor's and master's degrees in Education. She is a former classroom teacher and reading specialist, passionate about building relationships with students and families to help them be successful. She has fifteen years of experience in education, working with students of all ages in various capacities. She enjoys traveling, reading and the outdoors, especially walks with her two rescue dogs, Bo and Rocky.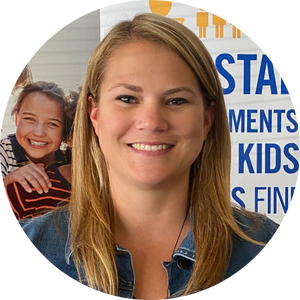 Tammy Rader
Community School Director, Elk Valley Elementary
Office: (814) 774-5602 ext. 6390
Email: tammy.rader@girardsd.org
2556 Maple Avenue, Lake City, PA, 16423
Corporate Partner: Reed Manufacturing Company, Matrix Tool, Bonnell's Auto Group
Lead Partner: Achievement Center of LECOM Health
A Girard School District graduate herself, Tammy received her Bachelor's degree in Psychology and Master's degree in Counseling both from Edinboro University. Tammy went on to pass testing to become a Nationally Certified Counselor and has nearly ten years of experience in counseling. Prior to becoming a Community School Director, she was the director of the Family Based Mental Health program at Family Services of NWPA. Tammy lives in Springfield with her husband Josh and their two sons Jake and Jaxon.